The Smart Water™ Wireless Water Level Monitoring System is a complete, simple solution for continuous monitoring and management of water and other fluid levels with local display only. (For internet monitoring capability see the new Smart Water Wifi Water Level Monitoring System)
The Smart Water™ Wireless Water Tank Level Gauge measures the water or fluid level in tanks up to 21 feet deep and up to 2.5 miles away (farther with options). Super easy installation and operation.
FEATURES:
The system includes a Desktop Touchscreen LCD Display Unit, a Tank Transmitter Unit, and a Level Sensor
Desktop Touchscreen Display Unit
Shows tank level, alarms and 30-day history at a glance

Easy to operate high res 2.8" colour touchscreen display

Up to nine Tank Units can be monitored via one Display Unit

Also can be used to set up and control a Wireless Pump Controller (See Accessories and Options below)

Can be mounted on a wall using the keyhole on the back of the unit
Tank Unit
Transmits the data measured by the sensor to the Display Unit

The Tank Unit needs to be line of sight to the Display unit location

High performance multi-directional antenna up to 4km / 2.5 miles line of sight (can be upgraded to increase range up to 10km / 6 miles

Tank Unit can be operated via Solar power/batteries or AC- no need to change batteries

Standard multi directional antenna for shorter distances - can be upgraded with Long/Ultra Long Ranger Directional Antenna to increase range

Strong weather resistant materials for durability

UV resistant marine grade plastic

Tank opening size required is 1 1/4"

Operating temperature 0 - 45°C
Level Sensor (4m)
Measures liquid level in the tank using pressure up to 201" (16.8 ft.) deep

Different fluids such as Molasses and Urea can be monitored by setting the Specific Gravity (SG) of the fluid being measured

Super high quality materials and construction for long life

Precision locking connector

Automatic calibration

4m/13ft cable length

10m Sensor also available (sold separately) measures tank depth up to 6.4 m (21 ft.)
VIDEOS
Smart Water Instructional Video
Smart Water Wireless Tank System
Supplemental Info
User Manual and Installation Instructions
---
Line of sight provides maximum range
---
Not finding what you need? We can put together a custom system for you. Please CONTACT US for more information.
The Smart Water™ Wireless Water Level Monitoring System
Complete system for monitoring tanks and cisterns remotely and wirelessly!
---
Display Unit
---
Tank Unit - Transmitter/Sensor with Both AC and Solar Battery Charger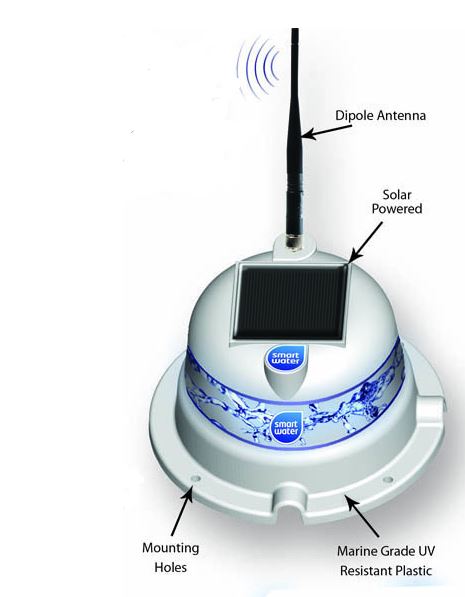 ---
Displays
Normal Mode ------ Alarm Mode-------- History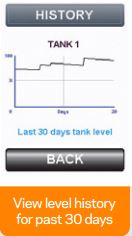 "Time to Empty" indication based on your actual water usage. Just like a trip computer in your car, the system will tell you how long you have until your tank water supply will run out!
• "ALERT" features for low days remaining and low tank level
• "ALERT" feature for abnormal usage warns of system leaks or any unusual water usage detected. The system will alert you if a water source/outlet has been left running or there is a system leak within 4 hours
Extremely Easy To Operate And Install
---
ORDER INFO
Note: These sytems provide local display of tank levels only. For internet monitoring capability see the Smart Water Wifi Water Level Monitoring System
---
Smart Water™ Wireless Water Monitoring System - DESK MOUNT (Wall Mount version also available - See Below)
Item #SW810....$499
Everything you need to install a Smart Water desk mount tank level system in one convenient box. The kit includes a desk mount LCD, one wireless tank unit, standard antenna, one 4 m stainless steel sensor, mounting accessories and a comprehensive user guide. This kit is designed for users with ONE tank (up to 8 additional tank units can be added later).
---
Need a longer Tank Sensor Cable for larger tanks? Upgrade your Smart Water System to a 10 m Sensor Cable (add to any complete Smart Water System or Tank Unit Kit)
10 m Tank Sensor Upgrade
Item # SW810-10UP....$39
---
ACCESSORIES AND OPTIONS
Smart Water™ Wireless Water Monitoring System - WALL MOUNT

Same system as above, but has a WALL MOUNT Display. Everything you need to install a Smart Water wall mount tank level system in one convenient box. The kit includes a wall mount LCD, one wireless tank unit, standard antenna, one 4 m stainless steel sensor, mounting accessories and a comprehensive user guide. This kit is designed for users with ONE tank (up to 8 additional tank units can be added later).

Item #SW810W

$499

Smart Water SW800 12VDC Wireless Pump Controller*

Modified Installation Required*

---

Note: Smart Water AC Pump Controllers are not suitable for use in North America and so are not available

The Smart Water SW800 12VDC Wireless Pump Controller will provide full automatic "set and forget" management for your pump. You can set the unit to turn your pump on and off at customised tank levels. Water can be pumped between tanks or from bore/stream water sources. Auto stop feature, loss of comms shutoff feature, automatic timer function all combine to make a high quality and very useful addition to your Smart Water system. The pump controller can be fully controlled from your existing LCD keypad. Please note that this version is designed for 12VDC applications only.

Modified installation required*

Item #SW800-12VDC

$279

Smart Water SW800 2-Tank DESK Mounted Starter Pack

Everything you need to install a 2-Tank Smart Water desk mount tank level system in one convenient box. The kit includes a desk mount LCD, two wireless tank units, standard antenna, two 4 m stainless steel sensors, mounting accessories and a comprehensive user guide. This kit is designed for users with TWO tanks (up to 7 additional tank units can be added later).

Item #SW800-2TANK

$699

Smart Water SW800 2-Tank WALL Mounted Starter Pack

Everything you need to install a 2-Tank Smart Water wall mount tank level system in one convenient box. The kit includes a wall mount LCD, two wireless tank units, standard antenna, two 4 m stainless steel sensors, mounting accessories and a comprehensive user guide. This kit is designed for users with TWO tanks (up to 7 additional tank units can be added later).

Item #SW800-2TANKW

$699

Smart Water SW800 Tank Unit Kit

Extra tank unit kit for the simple addition of another tank to your Smart Water system. Can be powered by AC or Solar/Battery power. The kit comes complete with all the necessary parts for an easy installation. Includes a 4 m Stainless Steel sensor, dipole antenna, mounting accessories and a comprehensive user guide (AC power supply sold separately)

Item #SW800-TUK

$319

---

Tank Unit AC Power Supply

Item #SW800-TUK-PS...$15

Smart Water SW800 Tank Unit Only

Tank unit only kit. This product includes an AC and battery powered, solar charged tank unit and antenna. There is no sensor supplied in the kit, and no mounting accessories. (AC power supply sold separately)

Item #SW800-TUO

$209

---

Tank Unit AC Power Supply

Item #SW800-TUK-PS...$15
Smart Water SW800 10 Meter Sensor Cable

Smart Water SW800 Stainless Steel sensor. Extended 10 meter length, super rugged polyethylene cable, 316 Stainless Steel, precision locking waterproof connector

Item # SW800-10M

$229

Smart Water SW800 4 Meter Sensor Cable

Smart Water SW800 Stainless Steel sensor. 4 meter length, super rugged polyethylene cable, 316 Stainless Steel, precision locking waterproof connector

Item # SW800-4M

$199

Smart Water SW800 Desk Mount Unit Antenna

High performance dipole antenna for use with the Smart Water SW800 stylish desk mount unit

Item # SW800-DMA

$29

Smart Water SW800 Tank Unit Antenna

High performance dipole antenna for use with the Smart Water SW800 tank unit or wireless pump controller

Item # SW800-TUA

$29

Smart Water SW800 Yagi Antenna-Economy Version

Smart Water SW800 economy version Yagi antenna. Measures 380mm in length and is made of the highest quality weather resistant materials. The Yagi Antenna is used when wireless range needs to be increased. Wireless range of up to 5km can be achieved with this antenna

Item # SW800-YE

$79

Smart Water SW800 Yagi Antenna-Ultra Long Range Version

Smart Water SW800 high performance Yagi antenna. Measures 800mm in length and is made of the highest quality weather resistant materials. The Yagi Antenna is used when wireless range needs to be maximised. Wireless range of up to 10km can be achieved with this antenna

Item # SW800-YULR

$99

Smart Water SW800 Antenna Extension Cables

0.5 Meter

4 Meter

10 Meter

0.5 Meter Extension Cable

Extension cable for use with the ultra long range Smart Water Yagi Antenna. 0.5M metre total length, SMA male to SMA male, 3u" Gold plated SMA connectors with high performance low loss RG58U cable

4 Meter Extension Cable

Extension cable for use with the ultra long range Smart Water Yagi Antenna. 4 metre total length, SMA male to SMA male, 3u" Gold plated SMA connectors with high performance low loss RG58U cable

10 Meter Extension Cable

Extension cable for use with the ultra long range Smart Water Yagi Antenna. 10 metre total length, SMA male to SMA male, 3u" Gold plated SMA connectors with high performance low loss RG58U cable

Item # SW800-C0.5

$26

Item # SW800-C4

$39

Item # SW800-C10

$59

Smart Water SW800 Bracket Mount Dipole Antenna

Standard dipole antenna conveniently mounted onto a robust right angle bracket. Perfect for mounting an antenna outdoors on the side of buildings and pump sheds. Includes a high performance, low loss RG58U 4M cable

Item # SW800-BMDA

$89

Smart Water SW900 Wireless Active Repeater

The Smart Water Wireless Active Repeater allows for weak signals from distant tanks to be boosted. Perfect for long range and challenging installations where a reliable wireless link is critical. Solar powered with smart battery management and repeater logic are critical design factors that make this product a great addition to your Smart Water network.

Item # SW900-WAR

$489

Smart Water SW800 Desk Mount LCD Display Unit (LCD Only)

Smart Water SW800 stylish desk mount touchscreen LCD unit for installations requiring an extra desk mount LCD unit. Accessories included in the kit are a high performance dipole antenna, power supply, USB cable and a comprehensive user guide

Item # SW800-LCDD

$199

Smart Water SW800 Wall Mount LCD Display Unit (LCD Only)

Smart Water SW800 Wall mount touchscreen LCD unit for installations requiring an extra wall mount LCD unit. Accessories included in the kit are a high performance dipole antenna, mounting kit, power supply and a comprehensive user guide

Item # SW800-LCDW

$199

PVC 4-Hole Flange and and Split Rubber Cord Grip

PVC 4-Hole Flange and Split Rubber Cord Grip make theTank Unit installation easier and more secure on your tank. Holds sensor wire and sensor in place securely and properly sealed.

Item # SW800-FLG

$15

PVC 1 1/4" Threaded Socket Male Adapter with Split Rubber Cord Grip

PVC 1 1/4" Threaded Socket Male Adapter with Split Rubber Cord Grip make theTank Unit installation easier and more secure on your tank. Holds sensor wire and sensor in place securely and properly sealed.

Item # SW800-SMA

$15